I was having lunch with my friend just before Christmas, and she was really interested in if I want to go back to office and work my nine-to-five (or it was actually seven-to-three:-). No way, I answered. She was a bit unbelieving as she knew how passionate I was about my work (yes, there were times when it was enjoyable...).
The discussion went on, lingered a bit and ended up to my Christmas calender. It was a moment of realisation for my friend: "No, you really don't need to go back to office, you are most able to generate the stress all by yourself!"
This story fits today nicely, as I woke up wondering what on earth I have promised: to teach a workshop on "Kotiseminaari" ( an online happening) about a bag AND to provide instructions for FOUR bags to magazine of Nukkeyhdistys. All, of course, on dolls' house scale.
And it should be obvious to the reader that the bags do not exist, except to some extent, in my head. The deadline for the first two bags is only in next week, so plenty of time left...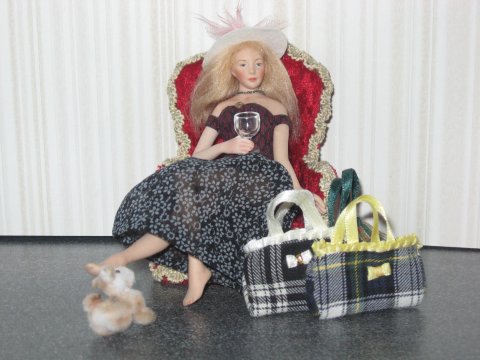 This is an old photo from spring 2012, but it has some bags in it